Recent Activities
Singing Together - 21st March - World Down's Syndrome Day
We sang and signed with our friends from DSNE in a relaxed session at The Exchange. It was a lot of fun and a good audience turned up and seemed to enjoy themselves, too. It raised a brilliant £635 for DSNE - partly from a collection on the way out and partly from the raffle. There were some lucky winners.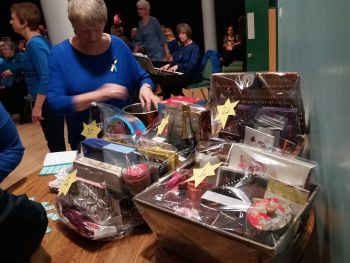 10th Birthday Party - 1st March 2019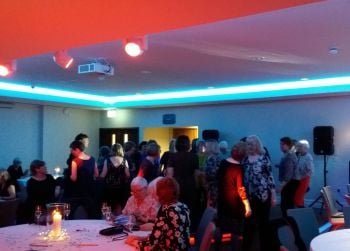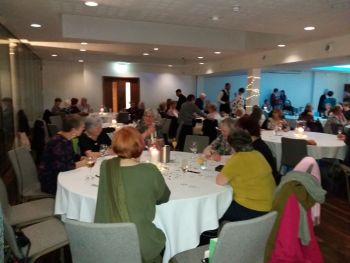 About 100 Whitley Women congregated in the Function Room at the Spanish City - stunning night time view through the windows. It was a relaxed evening of chatting and lots of dancing. Val read a poem, including many of the reasons we love our choir and Gilly reminded us of the different things we have been part of, during 10 years of singing and laughter.



Our one and only treasurer cut the cake.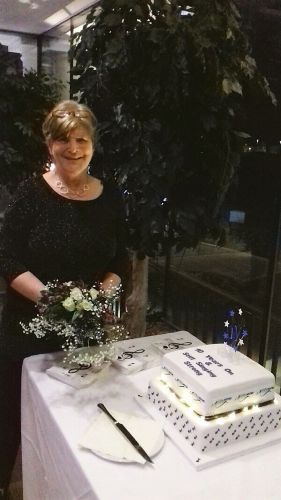 Makaton Signing session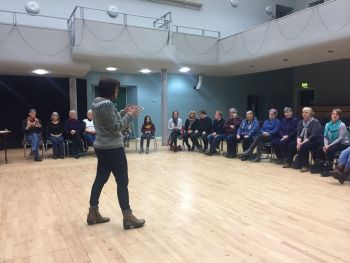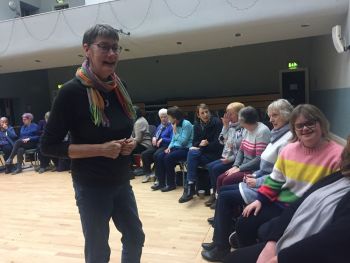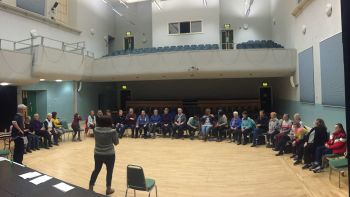 A group of Whitley Women, Down's Syndrome North East members and friends turned up to The Exchange and had a lot of fun learning to use Makaton signs for 'Love is all around' and 'Happy Together' for our concert in March. There will be two more chances to practise together, but you can watch the songs here - nearly perfectly performed!

Love-is-all-around from Whitley Women on Vimeo.
Happy-together from Whitley Women on Vimeo.
Christmas 2018

On Saturday 14th December, we sang twice - once in the cold, outside Spanish City, to a small collection of random passers-by and a few stalwart supporters, then later in the warmth of the Old Low Light to a good audience of family and friends.

Whitley Bay Lantern Parade
This parade starts the weekend of the St Nicholas Christmas Market. There were a lot of people in the parade with the children and their lanterns. Our Christmas Choir stood in Park View and sang as they came past, then joined the end of the procession, still singing. When we reached the centre of Whitley Bay, we were invited into Whitley Bay Big Local, and sang a few more carols in the warm!


Remembrance Day - Sunday 11th November

We sang four of our songs outside Spanish City. Gilly thought that 'Only Remembered', sung in the dusk, was really moving. I think we would all agree.

Extraordinary Women - Saturday 15th September
We were happy to asked to sing our Suffragette set for one last time before the performance of a specially commissioned play about extraordinary women with connections to our local area.

We started in the courtyard, with our banners held high and marched into the auditorium, singing.



Once on the stage, we made an impressive array of determined women, hats and all. North Tyneside's Operational Manager for Cultural Services thanked us "for helping to make it a memorable evening".


The sign on the stage before the plays tells you the point of the stories they told about extraordinary women with connections to this area.
Beamish - Suffragette Saturday - 28th July 2018
After a month of sunshine, there was a wet start to our visit to Beamish.

As we marched to the town, a cheeky bus conductor told us to "get back to your kitchens", eliciting a vigourous response from Linda and a rendition of 'You can't kill the spirit'.


By the time we reached the park, the sun had come out.

Led by our drummer, we marched through the town and sang at the bandstand.



After a break for lunch, we met again at the miners' cottages and marched to the mine area for our second performance. It was so windy that Gilly's hat blew off, but luckily a soprano managed to catch it!



Whitley Bay Carnival 26th May 2018
Despite a cloudy start, the streets of Whitley Bay were lined with people waiting to see the Carnival Parade. As usual, local schools and musicians were there, all in colourful costumes, on the theme of 'BIG'. Whitley Women marched as suffragettes, remembering that women were first able to vote 100 years ago. We were the final group in the parade, which stretched a long way back from its starting point outside Whitley Bay Metro.



Whitley Women marched 'In numbers too big to ignore' - which, unfortunately meant that the back of our group could not hear the front, but we still managed to sing several times, en route, when the parade paused for a while. All the way, we were led by Gilly and two intrepid drummers!



On the seafront, we gathered around the War Memorial and sang to an audience that stretched almost across to the Spanish City!


Message from Gilly: Well done lovely Suffragettes. Patient, tuneful and focussed. Nana would be proud!!
See you after half term. xGilly
Suffragette walk - 28th April 2018
Hordes of Whitley Women turned up in a small car park in North Shields, all dressed in suffragette-style clothing - many with wonderful hats and holding banners. We marched along a seafront path, led by Gilly and two intrepid drummers.



In keeping with the idea in 'Step by step', several choir members commented that no-one had taken any notice of them, arriving singly, but when we were together, there were people all along the path taking photographs as we passed.
At the Old Low Light, there was time to chat and have a very welcome cup of tea or coffee before we sang. Despite the cold wind, there were enough of us to make a good sound for our audience.

World Down's Syndrome Day 21st March 2018
The Millennium Bridge was lit in blue and yellow for the day.

We gathered in the Baltic cafe - much warmer than singing outside for very long! Many families who have children with Down's syndrome were there - apparently very keen to photograph us.

Siyahamba was particularly popular. Some children joined in with the singing and others kept the beat.
We all enjoyed singing to such an appreciative audience.

At the end, we did brave the elements and sang in front of the bridge. We even had an extra singer! To cap off a lovely event, the Millennium Bridge tilted, shortly after we finished singing - a sight many of us had not seen before.

Bradford February 2018
This was a new venue for a Whitley Women Residential - offered by one of our members after other arrangements fell through. From start to finish, we had a wonderful time, thanks to Gilly and a team of tireless organisers. Thanks also to


the hotel staff, who were not just kind and helpful, but really friendly.


On the first evening, many of us went to see 'War Horse' at the Alhambra Theatre - a beautiful building. The performance made such an impact that we were still talking about it 24 hours later!
As well as singing songs from the 20s in sessions that had us all laughing, there were afternoon workshops to learn the Charleston and enhance our evening appearance by making headbands and painting our nails.
Some people chose to explore the city, instead, and came back with lots of interesting stories.
Saturday evening was the main event. The team worked hard to decorate it and even found time to get themselves into their flapper outfits.


Cocktails were served, followed by a 3-course meal. Everyone looked the part.

Then we were entertained by the inimitable duo of Dame Juanita Rasp and Dame Gildred Hacksaw. Occasionally, we were allowed, begrudgingly, to sing along.


Later, we found that we remembered a surprising number of songs from the 20s, although some parts were distinctly wobbly. Those of us who had practised the Charleston routine showed it off to the others, dancing to 'Ain't she sweet'. We managed a lot of the moves, some of them in the right order! Lots of enthusiasm, just a bit of style.
As is traditional, the weekend ended with us all singing together, with perhaps a bit less energy than when we started, but still having a lot of fun.