Recent Activities
Spring/Summer 2022
After another break because of the high rate of infections, we managed to restart rehearsals for the second half of the term. Excitingly, we have lots of events to look forward to this Spring and Summer. To take part in Whitley Bay Carnival this year, we have started making a beautiful 'Rainbow Warrior'. The sessions over Saturday and Sunday 2nd and 3rd April were chatty and constructive! She should look amazing when finished.
Tynemouth Food Festival
Unlike our past experience (at a Winter version), the weather was glorious - bright sunshine encouraging large numbers of visitors to the festival, many sitting having picnics near the food stalls.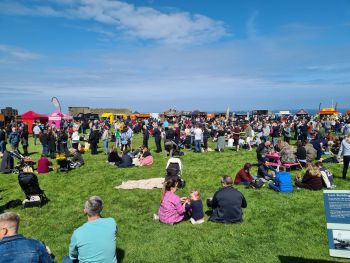 We were singing near the main entrance, next to a big marquee. It was great to sing outside again to the many passers-by. The stall holders in the marquee thought we sounded good, too.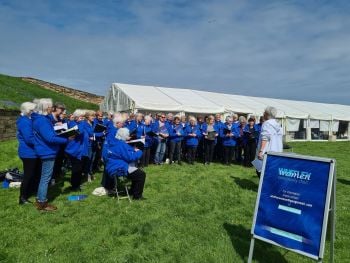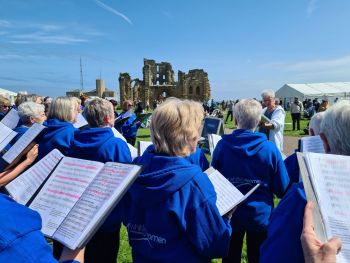 Whitley Bay Carnival 2022

The theme of giants made for an interesting collection of creations. We followed our Rainbow Warrior in the middle of the parade, carrying her rainbow and banners. We didn't sing while walking, this year - just as well, because we could often hear the drum group ahead of us and other music from behind!
Once on the seafront, we sang on the Spanish City Plaza. The audience particularly liked our familiar, local songs.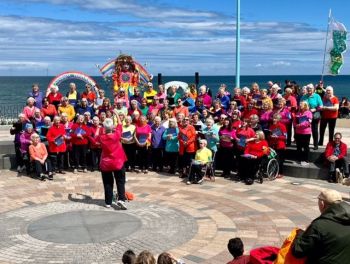 'Heritage Tea' at the Old Low Light

We assembled outside The Old Low Light in sunny weather, but battling with the wind, as usual. It was sometimes difficult to hear other parts, so this wasn't our best singing, but the tea/coffee and cakes afterwards were delicious and gave us all time for a chat.
Even though it was July, there were dark clouds over the Old Low Light on our second outing. The plant sale was popular and the cakes were just as good as the first time. Fewer singers came along and we still had problems hearing each other, but the audience seemed to enjoy the familiar songs.
Autumn/Winter 2021
Christmas Choir
SATURDAY 27thNovember We had hoped to be singing outside Spanish City today, while there was a Christmas market inside. Unfortunately, the weather was atrocious, with official warnings to avoid going out unless essential. Gilly went along, just in case anyone hadn't got the cancellation message and froze for 15 minutes. No-one else braved the weather!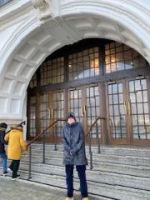 SATURDAY 11th December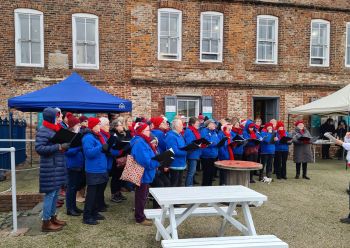 The weather at the Old Low Light was cold and windy, but this time we managed to sing. There was an audience of family and friends, too. Complimentary coffee and mince pies for singers were much appreciated.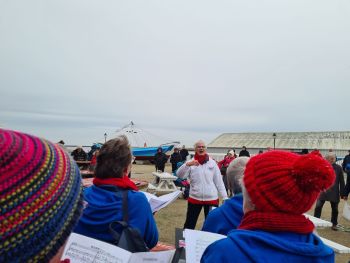 SUNDAY 12th December
It wasn't so windy or cold in the square at North Shields Christmas Market and there were lots of people browsing the stalls, with some coming over to listen.

SUNDAY 19th December
We had originally planned to sing in the stables at Seaton Delaval Hall, which always feels very appropriate at Christmas. In order to minimise risk of the virus, we sang outside them instead, in the courtyard. It was a lovely surprise to hear a few songs from Every Cloud, too, with the even more surprising sight of Gilly in a Christmas hat! (Only briefly)