Recent Activities
Autumn/Winter 2021
Christmas Choir
SATURDAY 27thNovemberWe had hoped to be singing outside Spanish City today, while there was a Christmas market inside. Unfortunately, the weather was atrocious, with official warnings to avoid going out unless essential. Gilly went along, just in case anyone hadn't got the cancellation message and froze for 15 minutes. No-one else braved the weather!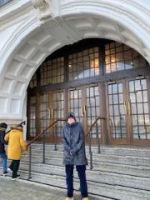 Christmas Choir 2019

SATURDAY 21st December:
Truly stunning end to the term. How well the Carol Choir sang at Alnwick Garden today - and what a lovely sense of enjoying singing together. (Especially the rather 'speedy' final set!!)
Very Happy Christmas to all.
Remember - no Christmas music when we start back on January 15th. x Gilly

SUNDAY 15th December: As usual, it was chilly at Seaton Delaval Hall, even inside, but there was bright sunshine streaming in through the windows. A good audience gathered to listen, especially for our first set - there weren't enough chairs for them all.
THURSDAY 8th December: A smaller group of singers made it to the Metrocentre and collect money for a charity. They collected £50, which we matched from choir funds to make £100. You can read the letter of thanks here.

SUNDAY 8th December:We braved the weather outside at the Old Low Light for a single song. When the rain started, we thankfully moved indoors to the top floor and sang in the warm to a good size audience. Guy Moody from The Old Low Light sent a lovely thanks for our efforts - you can read it here.

FRIDAY 6th November:A few people stopped to listen, as we sang in the centre of Whitley Bay, but the best audience was when we met up with a group visiting the Christmas artwork. Afterwards, we listened to a saxophone group - their music got some of us foot-tapping and occasionally singing along.
SUNDAY 1st December: On a crisp afternoon, a full-size Christmas Choir assembled at Wallington Hall. We occupied two sides of the gallery and sang to an audience seated below on the ground floor. It was occasionally tricky to see Gilly, as she wasn't inclined to fall over the gallery rail, but the sound was effective.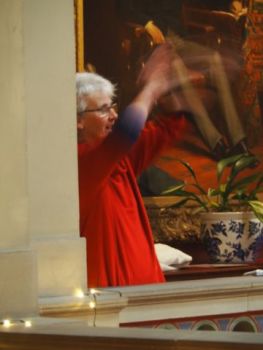 The Power of Song - Friday 15th November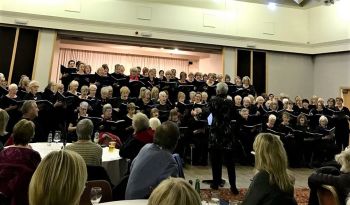 We got together at the Park Hotel on a chilly, rainy evening to sing a set of accompanied songs, many from musicals. It was a lot of fun and our audience seemed to enjoy it, too.

Summer Sing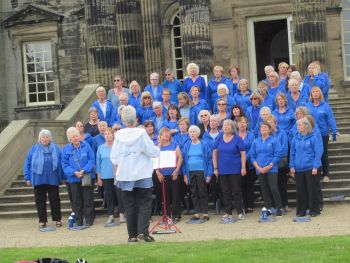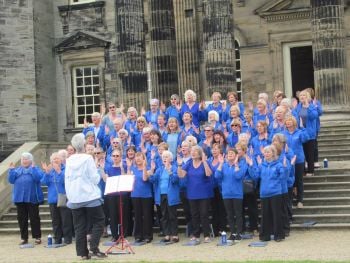 For our last outing of the Summer, we assembled on the steps of Seaton Delaval Hall and sang to family, friends and others enjoying the sunshine.
We managed to remember our signing, as well.
Some singers made good use of the hour between our two performances and shared a picnic together.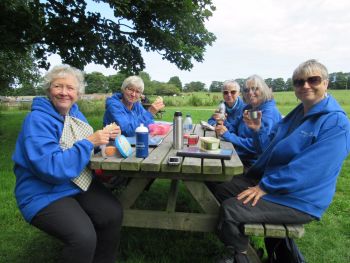 Viva Espana Social 28th June 2019
The hall at Cross Keys was decorated to get us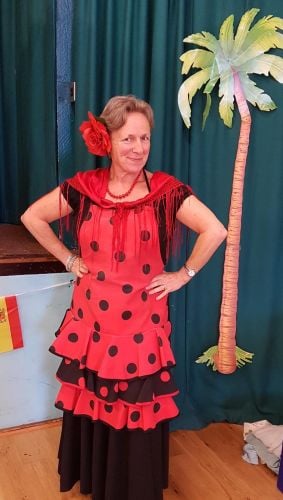 into the mood of a holiday in Spain. Some really went to town on looking the part.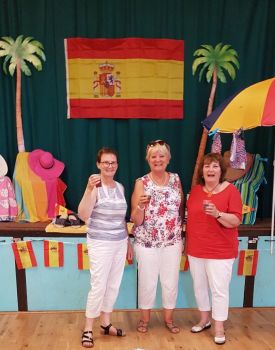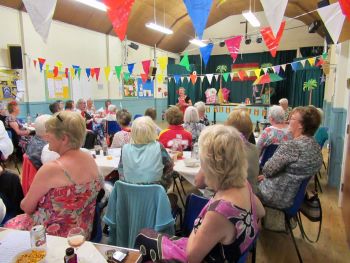 Quite a few people showed a useful knowledge of common Spanish expressions, but the other quiz was more challenging.

Whitley Bay Carnival 26th May 2019
The day was rainy, at first, with very strong winds, but luckily it improved in time for us to sing. The food stalls nearby were just getting started, as were the other stalls inside a marquee. We sang and signed and even smiled, sometimes! Family and friends gave us a good audience, while we hope that people on their way to the rest of the carnival attractions also appreciated our efforts.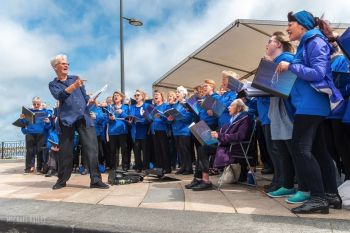 Singing Together - 21st March - World Down's Syndrome Day
We sang and signed with our friends from DSNE in a relaxed session at The Exchange. It was a lot of fun and a good audience turned up and seemed to enjoy themselves, too. It raised a brilliant £635 for DSNE - partly from a collection on the way out and partly from the raffle. There were some lucky winners.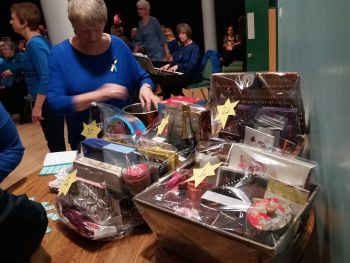 10th Birthday Party - 1st March 2019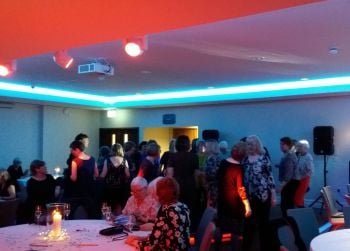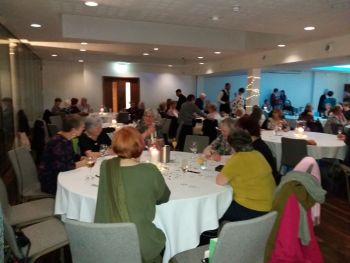 About 100 Whitley Women congregated in the Function Room at the Spanish City - stunning night time view through the windows. It was a relaxed evening of chatting and lots of dancing. Val read a poem, including many of the reasons we love our choir and Gilly reminded us of the different things we have been part of, during 10 years of singing and laughter.

Our one and only treasurer cut the cake.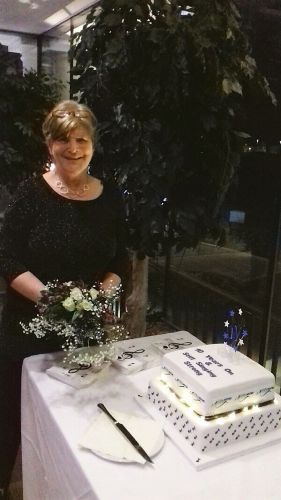 Makaton Signing session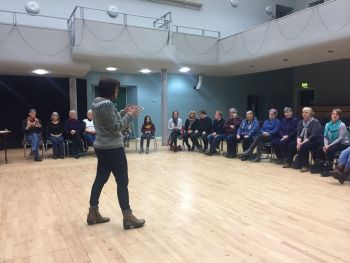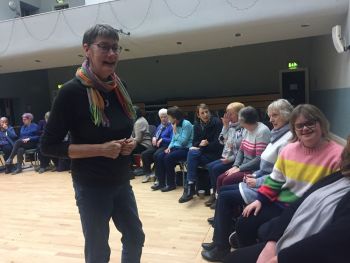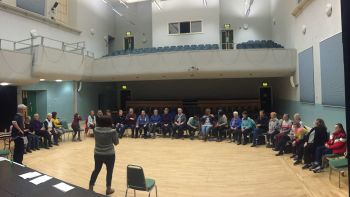 A group of Whitley Women, Down's Syndrome North East members and friends turned up to The Exchange and had a lot of fun learning to use Makaton signs for 'Love is all around' and 'Happy Together' for our concert in March. There will be two more chances to practise together, but you can watch the songs here - nearly perfectly performed!

Love-is-all-around from Whitley Women on Vimeo.
Happy-together from Whitley Women on Vimeo.